Flooding and water damage from smaller cracks are an issue all year round. In the winter, there is a risk of pipes freezing and breaking. Snow, ice, and leaves can block drainage causing water to back up. Accidentally leaving a garden hose or sprinkler system attached all winter could potentially cause freezing and water back-ups, too. Plus, there is a risk of faulty plumbing, old and worn-out systems, appliances clogging, overflowing, leaking, and more.
It's important to be aware of these potential problems and keep an eye on plumbing and areas of your home where water is used to reduce the risk of emergencies and water damage. Water that has leaked, backed up, or flooded from the environment can range from relatively clean to extremely unsanitary. Not all damage is flood damage: even a small amount of leakage could lead to mold or rotting that can spread. It's good to get into the habit of checking pipes, fittings, drains, and connections once each season, especially to prepare for winter.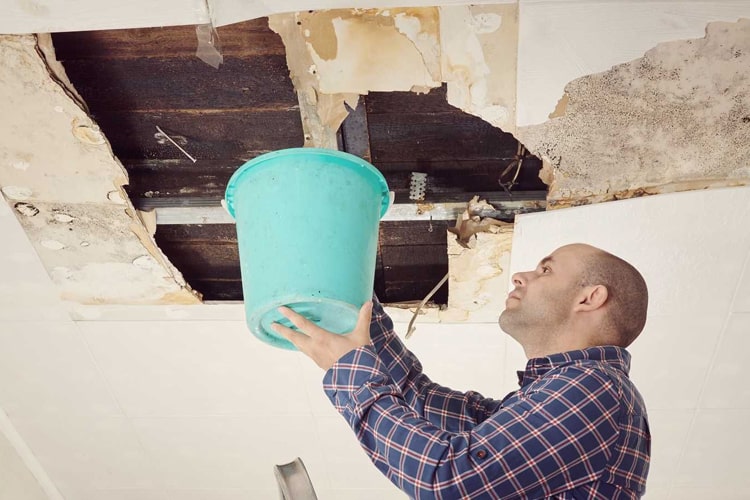 If you're facing a flooded basement or other areas in your home, be wary of the risk of shock. Shut off circuit breakers in the affected area, and if you're not sure which ones apply, shut off the power completely, to be safe. Large-scale flooding, like from a natural disaster, should be dealt with by your utility company or an electrician before entering the waters. Always err on the side of safety.
If the water is coming from a broken pipe or malfunctioning appliance or fixture, shut off the water supply using the main shut-off valve. Figure out where this is before trouble occurs. It's usually in the basement, or it could be outside; if you can't find it, locate your water meter and see where it leads. You may find it hard to turn the handle from lack of use, so it's also good to turn it periodically and add lubricant before trouble happens.
To help prevent water damage, in addition to regularly inspecting your plumbing, having experts perform regular preventative maintenance is worth it. Professionals like The Super Plumber can keep your pipes and drainage in efficient and secure working order. Plumbers are usually called once there is already a problem or even an emergency, but you can save money by keeping your plumbing, water heater, and appliances in continual working order. Look for plumbers accredited by the Better Business Bureau and ones that guarantee satisfaction with their services.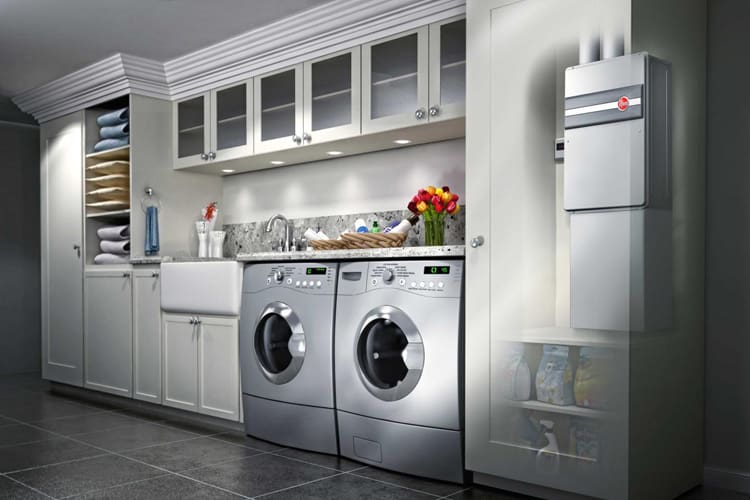 You can take care of a lot of water damage recovery yourself, but it's wise to call in professionals to take care of clean-up because water can cause serious property damage and poses health risks due to mold or bacteria, depending on the source of the water. This may be covered by your insurance, but that's not guaranteed – it depends on the source of the problem. Water damage is categorized by classes based on the rate of evaporation and the nature of the damage. Professionals will preface their work with a proper assessment first, and it's smart to take many photos to help with claims.
Certain appliances will have a higher increase in surviving a flood than others. Sometimes, mechanical-based washing machines can survive, and hot water tanks often do as well as they are nearly self-contained. Tankless water heaters are a different story, and if suffered a flood, there is a good chance you are going to need to buy a new electric tankless water heater.
Recovery and restoration will assess the extent of the presence of water and damage to your home and possessions with specialized tools. Then, proper drying and sanitizing clean the area of contaminants. Deodorizing is included to reduce musty smells or odours released. Drying often occurs in stages to be sure the job is properly completed over time and not just at the surface level.
Prevention is key, but sometimes water damage is unavoidable. Access plumbing services, look for insurance coverage that protects against many possible scenarios, and use professionals to take care of clean-up to stay safe.