A robust oak dining table can soon become the Centre of attraction in any home. Elegant oak dining tables not only help serve the purpose of dining but becomes a centerpiece and also adds a certain ambiance and personality to the house Interior designers, homeowners, and architect uses and suggests oak for many home improvement assignments for the following reasons.
Benefits of Oak Dining Table
#1. Extremely durable in nature: Oak dining tables are extremely durable and hence you can pass them from one generation to another. These are made from hardwood and are popular due to their beauty and long-lasting benefits. They are indeed very good investments in the context of valuation and longevity.
#2. Gives a solution for space: Using compact oak dining tables you can fit a large number of seats. A lot of clutter is avoided by using one single dining table for the entire family with space left for more. So, if it is about space efficiency nothing can be better than these.
#3. Design variations: Oak dining tables are made from a variety of sizes, designs, patterns, shapes, and finishes. So, whether you are a fan of traditional themes, contemporary or vintage these dining tables can fit in flawlessly.
#4. Can be aligned with all interior types: Homeowners prefer that the interior spaces and the furniture will share a common theme. This brings a seamless and elegant grace to the appeal of the house. Oak shapes and patterns can be chosen based on the requirement of the homeowner. These days' designers are crafting varied shapes and addition of dimensions to the table and chairs to sync with the theme of the other areas of the house.
#5. A Timeless approach: The oak dining table is recommended for all those homeowners who consider wood to be timeless.
#6. Cleaning and maintenance: It's very easy to maintain oak furniture. Usually, with regular cleaning, you can maintain its polish and attractiveness. Research more about the various do's and do nots of cleaning oak furniture.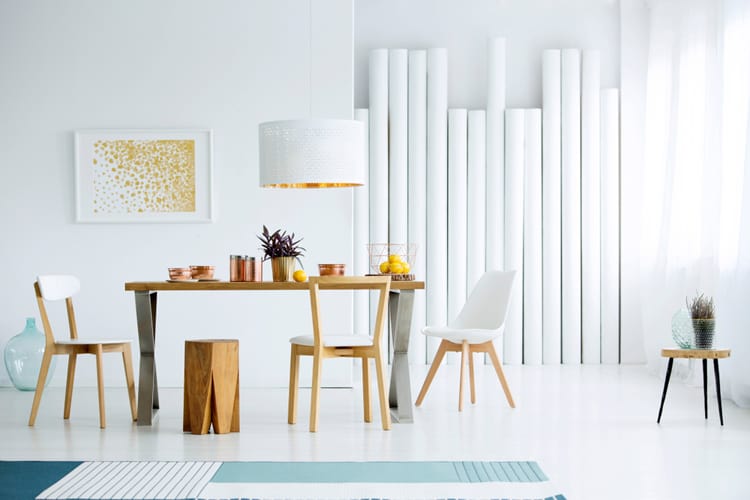 What is Special About Oak?
Many people are using oak to make many furniture owing to their low requirement for maintenance. All you need to do is to polish it twice a year.
The other attractive feature of an oak dining table is that it is extremely strong and durable. It is known to last for years until the usual strength of the wood diminishes.
The other positive aspect of oak is that it has a traditional as well as a classic look. If you want to give your home a traditional or contemporary look, oak is the best solution. The reason for this is that it will not fade or even rust over a period of time. Instead, you will find that oak looks better as its ages with proper maintenance.
Oak gives a warm and rustic look to the entire house. The forms of oak chosen are different when making furniture like beds, nightstands, chairs, dining tables, console tables, and many more.
Oak is basically a traditional material, and this is the reason why such furniture adds to the rustic theme of the rooms. It is in fact one of the most widely used woods in the world of furniture. The exciting fact is that oak furniture is also not very expensive when you compare your investment with the long-term value it provides to you and your family. Another important factor is workmanship and hence when making an oak dining table only choose the best designers out there as quality is crucial.