A home office should be designed to ensure maximum productivity, functionality, and focus. If you've made the decision to work from home, it's essential that your office furniture, in addition to the layout, are two main elements that guarantee your space does just that. While organization, comfort, and practicality are essential, your furniture is what dictates these components. For example, your desk chair (a piece of furniture) is the primary feature that determines comfort. Here are a few other pieces you'll definitely want to incorporate into your office space.
1. Desk
A work surface is an obvious necessity. When shopping for a desk, consider surface space, height, and drawer or storage space along with design details such as color and material. Companies like Skutchi Designs have a wide variety of office desks to choose from. There should be enough work surface space for you to comfortably fit your necessities and most used supplies on the surface of your desk. If those supplies include only a computer and notebook, you could get away with a smaller desk than maybe an interior designer, for example. When sitting at your desk, you should be able to maintain a 70 to 135-degree angle between your forearm and upper arm (the bend in your elbow). Your desk should have adequate storage space in order for you to remain well-organized.
Features such as color and material should fit the general theme and design of the room; whether that be modern, traditional, rustic, etc. This is where your design preferences and personal touch are given the chance to appear.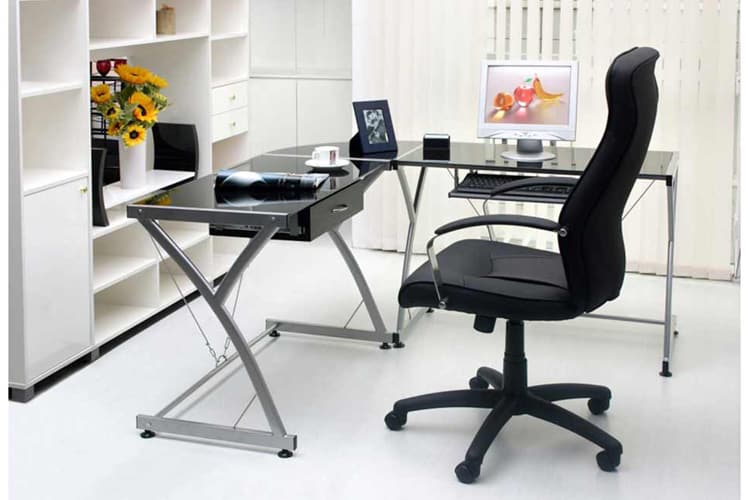 2. Comfortable Desk Chair
You'll spend a minimum of eight hours a day in your desk chair; be sure that it's comfortable. I prefer rolling, adjustable desk chairs because you can alter them to fit any desk or user's height and easily move around your space from your chair; making all supplies easily accessible. However, that choice is yours. As long as you're able to spend long hours sitting in your chair without being distracted from work by your neck or back pain, your chair is serving its purpose.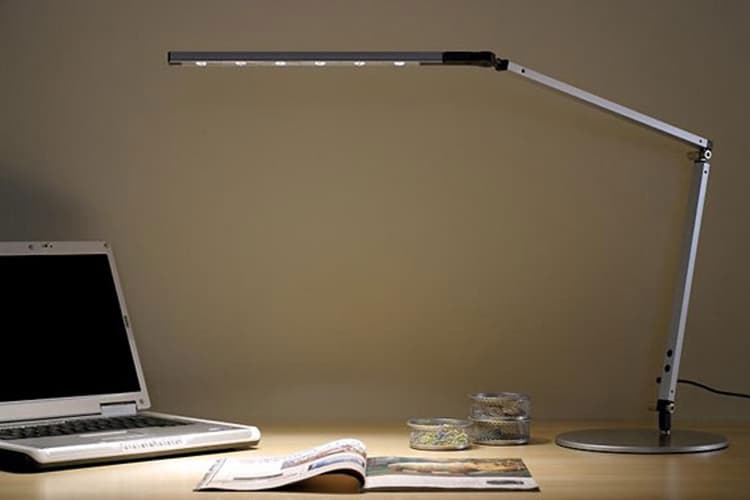 3. Lamp
While you should utilize a variety of lighting sources, a desk or nearby floor lamp is essential. Working from home allows you to escape those harmful fluorescent lights. A natural source of light (i.e. a window) should be located in your space if possible, however, a desk lamp will keep your work area well-lit after the sun goes down without blinding you as powerful overhead lights might. A lamp can also make a great decorative or statement piece as well.
4. Shelves or Bookshelf
Utilize a shelving unit or bookshelf as an additional organizational tactic. Choose a color or style that matches the overall tone of the room. Introduce a larger bookshelf or unit if your job requires excessive storage solutions or if your shelves will double as a place to display small decorative items and pictures.
5. Couch or Chair for Additional Seating
Implement some sort of additional seating into your office space depending on the amount of space your room allocates for this. One or two armchairs or a small, comfortable couch are the perfect spots to show off decorative pillows or a blanket and provide a more comfortable supplementary location for you to work from. If you regularly have guests or clients in your office to meet with you, these seating alternatives are essential.
After each must-have furniture piece is implemented, complete your perfect home office design and make the space your own with creative and personalized decorative items. Introduce personal photos, your favorite artwork, decorative pillows, blankets, and a rug, and utilize live plants in your space as well.