Making the most of a small bathroom space is easier said than done. It takes a lot of creativity and a little work. The goal of this guide is to give you a few tips and tricks for maximizing the space that you have. As hard as it is, you might have to accept the reality that if you're renting, you're probably not going to have the giant luxury bathroom of your dreams. Maybe one day…but in the meantime, you might as well make the most of what you have.
Just because a bathroom is small doesn't mean it has to be uncomfortable. Coming up with creative storage solutions is half the battle, after that, you get to focus on decorating.
The best way to maximize space in your small bathroom is by installing a floating vanity. Vanities that are big and bulky are terrible options for small bathrooms. If their base is on the bathroom floor, they look like they take up more space than they really do. That's why floating vanities are going to be your best friend when it comes to small bathrooms.
Not only do they make your bathroom look bigger, they offer an awesome space for storage. Being able to store things under your sink is a game changer. A simple set of stacking drawers with do wonders for your organizational habits. Labeling them is even better. Getting rid of the clutter around your sink is one of the best ways to be more productive. Walking into the bathroom and staring at the same mess every morning is only going to stress you out. Avoid the mess by trying out different storage methods, you'll be shocked by the difference it makes.
Another storage option and space saver option, floating shelves. Floating shelves are cheap, easy to install, and they look great! Using floating shelves to store things that you want to keep handy is a tactic that is used in every kind of bathroom. One of the best places to install floating shelves is over your toilet! It's an area that isn't used all that often, but can be a lifesaver if you have a small bathroom. You can store toilet paper, soap, hand towels, the list goes on! It's worth taking a look and seeing if your bathroom is right for floating shelves.
When it comes to design, mirrors and white walls are going to be your best friends. Mirrors have a way of tricking your eye into thinking that your space is bigger than it actually is. The way the light reflects off the mirror is what makes your brain think that you're in a bigger bathroom. The combination of mirrors and white walls ends up opening your space more than anything else.
Not all people are lucky enough to have bathrooms with windows but if you do, make sure you're making the most of that natural light! Natural light is going to make your bathroom feel brighter and bigger.
Frameless shower doors are another easy way to make your space feel bigger. A shower curtain in your bathroom is going to cut the space off and you're going to feel a little claustrophobic. Glass shower doors without frames open the space up and make you feel like you're in a luxury bathroom. They're also a popular design choice in 2019. It's not the cheapest space-saving option, but it might make the biggest difference in your bathroom.
If you're thinking that only large, modern bathrooms have frameless glass shower doors, guess again! If you've ever been to Europe and stayed in an Airbnb or small hotel, you've probably noticed the bathrooms are tiny. The best way to conserve space is to make use of a small walk-in shower. You might not have a tub, but you'll have more space everywhere else in your bathroom.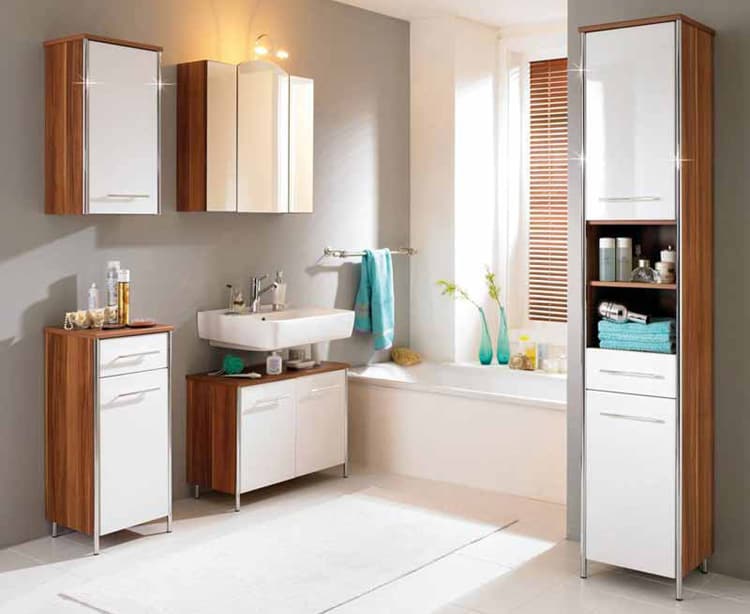 A final tip for maximizing space in a small bathroom is to go vertical! Use the backs of doors, including the inside of cabinets, to hang baskets for your belongings or towels. The goal is to find places that aren't readily visible to keep some of your things. This will reduce clutter and save you some space.
If you're still wondering why, you should maximize space in your bathroom, there's a simple answer. Making the most of your small space will make you less stressed in the morning. Almost everyone starts their day in the bathroom. If you're surrounded by a mess every morning, you're going to be a little grumpy. Starting your day in a clean, stress-free bathroom is going to change your morning routine for the better.